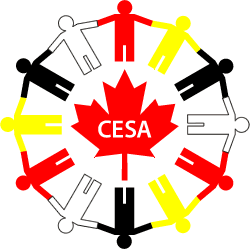 CESA
CESA Fran
çais
The Canadian Ethnic Studies Association (CESA) is a non-profit interdisciplinary organization devoted to the study of ethnicity, multiculturalism, immigration, inter-group relations and the cultural life of ethnic groups in Canada. CESA also publishes the Canadian Ethnic Studies Journal.
Each member receives a subscription to Canadian Ethnic Studies/Études ethniques au Canada, a journal published three times a year. The Journal includes scholarly articles, research notes, book reviews, and bibliographic information in both English and French.
As of 2014, CESA's Executive is located at the University of Calgary. The journal and central administrative office have now also moved to the University of Calgary, as of Summer 2014 .